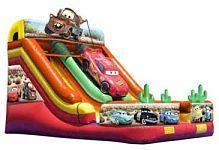 Setup area: 32' x 25'
Actual Size: 27'L x 19.5'W x 21'3"H
Outlets: 2
$350.00 ($233 lease + $117 labor)

Actual Size: 27'L x 19.5'W x 21'3"H

This unit brings fans from Carburetor County running with a whimsical design and exciting two-slide option. Kids can climb up the center tunnel, which is topped off by a three-dimensional Lightening McQueen, and then choose from either a right- or left- sided slide for a speedy ride to the cushioned bottom. Mater, the fun-loving truck sits in artwork atop the dual-lane slide.

Interested in a 2nd inflatable? You get $50 off your second inflatable priced $100 or more!